Mcallister / Coat of Arms, Family Crest and Mcallister / Family History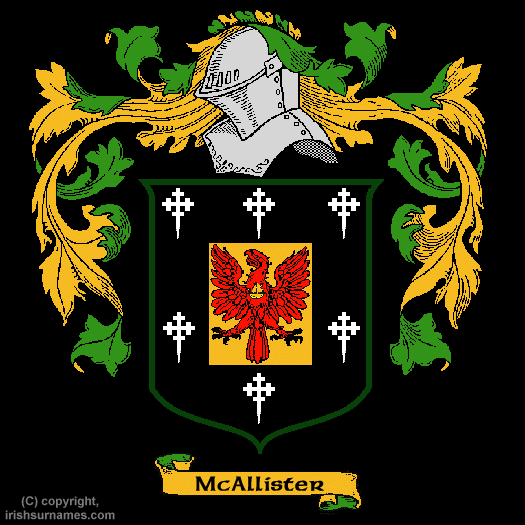 Mcallister / Family History
The ancient origin of the name
McAllister
was found in the irishsurnames.com archives.
Many different spelling variations of the same name can be traced back to a single original root. Also, when a bearer of a name emigrated from Ireland it was not uncommon that their original name would be incorrectly transcribed in the record books upon arrival at their new location. Some names have dozens of spelling variations. Some Surnames were also altered over the years based on how they sounded phonetically, by their sound, and depending on the prevailing political conditions it may have been advantageous to change a name from one language to another. This was especially so in Ireland where most Gaelic names were 'anglicized' at some stage.
Variants of the name
McAllister
include McAlaster, McAlester, McAllaster and McCalister. Alister Mor, Lord of the Isles and Kintyre in Scotland in 1284, was the first of the name. He opposed Bruce and was imprisoned in Dundoald Castle, and died there. His estates were given to his brother, Angus Mor. As Lord of the Isles, the dynasty was overthrown by James IV, and the MacAlisters became a distinct clan at Ardpatrick. Their descendants were called Vic-Ian-Dhu. The MacAlisters fought on the side of Montrose at Inverlochy in 1645. Argyll dissuaded Hector, their Chief, from being present. Hector's son, Godfrey, married a daughter of Sir Robert Montgomerie of Skelmorlie. Their son, Alexander MacAlister of Loup, fought for Dundee at Killiecrankie in 1689. His brother, Charles, married a daughter of Lamont of that Ilk. The present Chief is the MacAlister of the Loup and Kennox. The name McAllister was introduced into Ulster Province in Ireland during the fourteenth century.The
McAllister
family crest (or coat of arms) came into existence many centuries ago. The process of creating these coats of arms began as early as the eleventh century although a form of Proto-Heraldry may have existed in some countries prior to this, including Ireland. The new more formalized art of Heraldry made it possible for families and even individual family members to have their very own family crest, coat of arms, including
McAllister
descendants.
Meaning of Symbols & Colors on the Mcallister / Coat of Arms
Gules/Red
'The Martyr's colour', signifies Military Fortitude and Magnanimity.
Or/Yellow/Gold
Represents Generosity.
Sable/Black
Denotes Constancy and sometimes Grief.
Cross Patoncee/Cross Flory
One who had Conquered
Eagle
Symbol of Power and Strength