Alexander Coat of Arms, Family Crest and Alexander Family History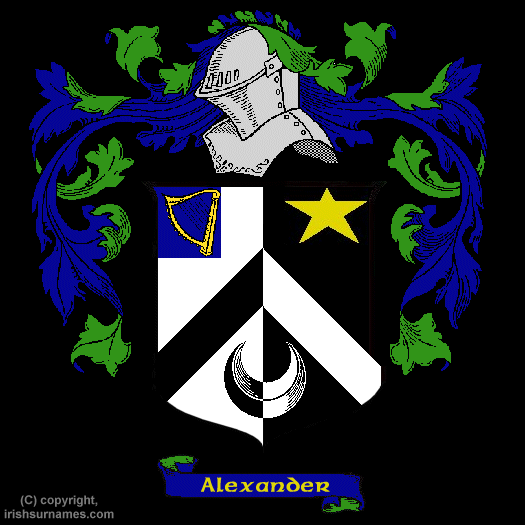 Alexander Family History

The Alexander ancient family history was found in the irishsurnames.com archives. Alexander is a baptismal name meaning 'the son of Alexander', a very old personal name with its roots meaning 'defender of man'. Although numerous throughout the countries of Ireland and England, it is nowhere more national as in Scotland, from hence it was introduced by Queen Margaret, wife of King Malcolm Ceannmor of the Hungarian court. Her third son was the first of three Alexanders, of which the death of the last was the signal for the long feud between the southern and northern Kingdoms. As a name, stories of prodigious achievements, many of them miraculous, caused it to be immensely admired. In Ireland the name Alexander has a number of anglicized forms including Elshinder and MacCalshender and is rendered in Gaelic as MacAlsandair. In modern times the name is most often associated with Counties Down and Antrim. The Alexander family crest (or coat of arms) came into existence many centuries ago. The process of creating these coats of arms began as early as the eleventh century although a form of Proto-Heraldry may have existed in some countries prior to this, including Ireland. The new more formalized art of Heraldry made it possible for families and even individual family members to have their very own family crest, coat of arms, including Alexander descendants.
Meaning of Symbols & Colors on the Alexander Coat of Arms
Argent/White or Silver
Denotes Peace and Sincerity.
Or/Yellow/Gold
Represents Generosity.
Sable/Black
Denotes Constancy and sometimes Grief.
Crescent/Increscent Moon
Signifies one who has been 'Enlightened and Honoured by his Sovereign'
Harp/Lyre
Denotes Contemplation
Mullet/Star of Five Points
Denotes Virtue, Learning, and Piety.