Allen Coat of Arms, Family Crest and Allen Family History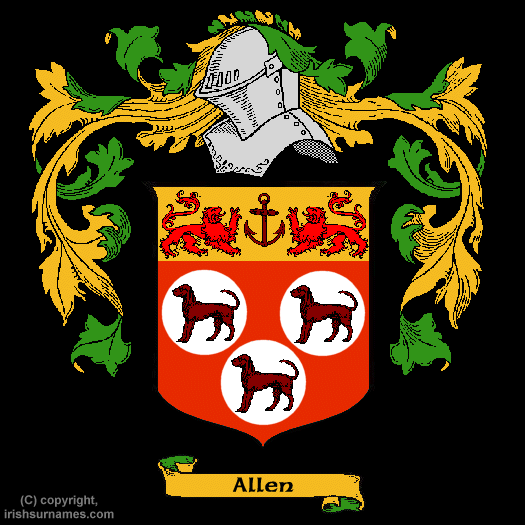 Allen Family History
The ancient origin of the name
Allen
was found in the irishsurnames.com archives. Meaning 'handsome, harmonious one', variants of Allen include Alleine, Alleyne, Allin, Alland, Allenson and Allanson. This name came to England with Alan Fergeant, Count of Brittany, France, spreading to Ireland, Scotland and Wales in early times and is found in many mediaeval manuscripts in the above countries. Examples of such are a Henry Aleyn, of England, who was recorded in the 'Hundred Rolls' in the year 1273 and in Scotland a John Aleyn was Burgess of Montrose in the year 1296.
Names were recorded in these ancient documents to make it easier for their overlords to collect taxes and to keep records of the population at any given time. When the overlords acquired land by either force or gifts from their rulers, they created charters of ownership for themselves and their vassals. It was by the method of creating and updating these old reference books that they were able to maintain their authority and enforce laws.
In Ireland the Allens are a branch of the Scottish Campbells who brought the name to Ulster. The Allens of Tipperary and Offaly arrived under the Cromwellian regime.The
Allen
family crest (or coat of arms) came into existence many centuries ago. The process of creating these coats of arms began as early as the eleventh century although a form of Proto-Heraldry may have existed in some countries prior to this, including Ireland. The new more formalized art of Heraldry made it possible for families and even individual family members to have their very own family crest, coat of arms, including
Allen
descendants.
Meaning of Symbols & Colors on the Allen Coat of Arms
Gules/Red
'The Martyr's colour', signifies Military Fortitude and Magnanimity.
Or/Yellow/Gold
Represents Generosity.
Chief
Dominion, authority, wisdom, achievement in battle
Anchor
Christian symbol of Hope
Greyhound/Mastiff/Talbot
Signifies Courage, Vigilancy and Loyalty
The Lion
Emblem of Deathless Courage
Plate
Representing a Silver Coin