Mcgillycuddy Coat of Arms, Family Crest and Mcgillycuddy Family History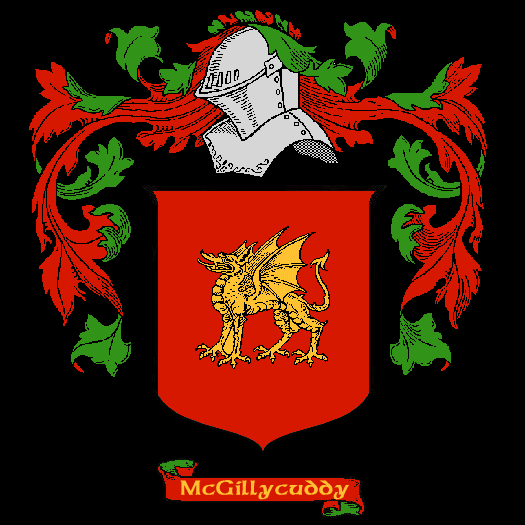 Mcgillycuddy Family History
The
McGillycuddy
ancient family history was found in the irishsurnames.com archives. The name McGillycuddy is derived from the Gaelic Mac Giolla Chuda sept that was located in County Kerry in Ireland.
A sept or clan is a collective term describing a group of persons whose immediate ancestors bore a common surname and inhabited the same territory. It is also the case that many Irish septs or clans that are related often belong to a larger groups, sometimes called tribes. For example the 'Tribes of Galway' consisted of fourteen distinct families. The 'Tribes of Kilkenny' were ten families, etc.
Prior to the sixteenth century these families were a branch of the O'Sullivan Mor sept, which at that comparatively late date became established as a sept distinct from the parent stem. At first the name McGillycuddy was only used by the chief's family, the others still calling themselves O'Sullivan alias McGillycuddy, but eventually the name was adopted by the whole branch. In modern times the name is still associated with the County Kerry area with the exact location marked by the 'McGillycuddy Reeks' mountains, with Carrauntoohil being the highest mountain in Ireland.The
McGillycuddy
family crest (or coat of arms) came into existence many centuries ago. The process of creating these coats of arms began as early as the eleventh century although a form of Proto-Heraldry may have existed in some countries prior to this, including Ireland. The new more formalized art of Heraldry made it possible for families and even individual family members to have their very own family crest, coat of arms, including
McGillycuddy
descendants.
Meaning of Symbols & Colors on the Mcgillycuddy Coat of Arms
| | | |
| --- | --- | --- |
| Gules/Red | 'The Martyr's colour', signifies Military Fortitude and Magnanimity. | |
| Or/Yellow/Gold | Represents Generosity. | |
| Dragon | Symbol of a Valiant Defender | |