Young Coat of Arms, Family Crest and Young Family History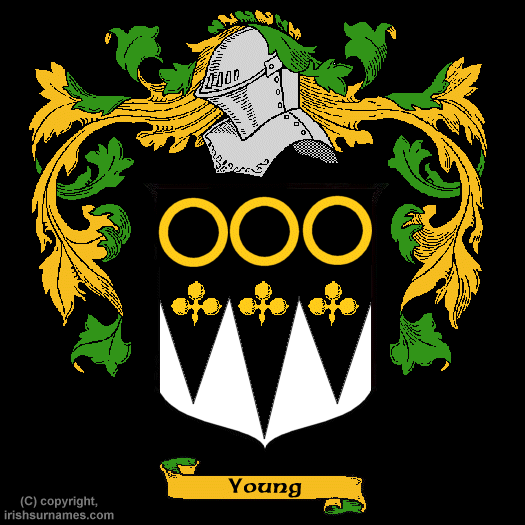 Young Family History
The ancient origin of the name
Young
was found in the irishsurnames.com archives.
Surnames developed a wide number of variants over the centuries. Many different spelling variations of the same name can be traced back to a single original root. Also, when a bearer of a name emigrated from Ireland it was not uncommon that their original name would be incorrectly transcribed in the record books upon arrival at their new location. Some names have dozens of spelling variations. Some Surnames were also altered over the years based on how they sounded phonetically, by their sound, and depending on the prevailing political conditions it may have been advantageous to change a name from one language to another. This was especially so in Ireland where most Gaelic names were 'anglicized' at some stage.
Variants of the name
Young
include Younge and Yonge. This name is to be found in many mediaeval registers in England and the Celtic countries of Ireland, Scotland and Wales. Examples of such are a John Yong of Scotland who witnessed a Charter by the Earl of Ross in the year 1342. A Hugh le Yunge, County Oxfordshire, England, and a Ralph le Younge, County Staffordshire, were both recorded in the 'Hundred Rolls' in the year 1273. A William le Yunge of Northumberland was recorded in the Placita de Quo Warranto, in the reign of Edward I.
In Ireland this name and its variants were introduced into Ulster Province by settlers who arrived from England and Scotland, especially during the seventeenth century. During the 'Plantations of Ireland' in the sixteenth and seventeenth centuries Ireland was colonized by the English Crown with this period marking the end of Gaelic supremacy in Ireland. This period brought an influx of settlers into the country but, unlike the earlier Anglo-Norman invasion of the twelfth century that resulted in a full integration into Irish society of the new arrivals, the same never occurred with the Ulster Planters who maintained their own distinct identity.
Young is also a nickname in Ireland rendered in Gaelic as 'og', pronounced 'owe-gh'. This name was applied in the sense of a junior, to distinguish father and son when they both bore the same name.The
Young
family crest (or coat of arms) came into existence many centuries ago. The process of creating these coats of arms began as early as the eleventh century although a form of Proto-Heraldry may have existed in some countries prior to this, including Ireland. The new more formalized art of Heraldry made it possible for families and even individual family members to have their very own family crest, coat of arms, including
Young
descendants.
Meaning of Symbols & Colors on the Young Coat of Arms
| | | |
| --- | --- | --- |
| Argent/White or Silver | Denotes Peace and Sincerity. | |
| Or/Yellow/Gold | Represents Generosity. | |
| Sable/Black | Denotes Constancy and sometimes Grief. | |
| Finger Ring/Annulet | Symbol of Fidelity | |
| Shamrock/Trefoil | Signifies Perpetuity | |