Mclellan / Coat of Arms, Family Crest and Mclellan / Family History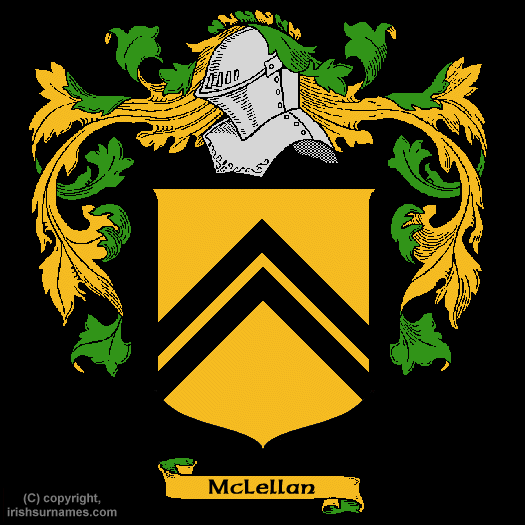 Mclellan / Family History
The
McLellan
ancient family history was found in the irishsurnames.com archives.
Surnames developed a wide number of variants over the centuries. Many different spelling variations of the same name can be traced back to a single original root. Also, when a bearer of a name emigrated from Ireland it was not uncommon that their original name would be incorrectly transcribed in the record books upon arrival at their new location. Some names have dozens of spelling variations. Some Surnames were also altered over the years based on how they sounded phonetically, by their sound, and depending on the prevailing political conditions it may have been advantageous to change a name from one language to another. This was especially so in Ireland where most Gaelic names were 'anglicized' at some stage.
Variants of the name
McLellan
include McClellan, McClelland, McLeland, McLalland, McLelland and Leland. Families bearing these names were numerous in Galloway in Scotland in the fourteenth century, and they gave their name to Balmaclellan in the Stewarty. Their lands were granted to John Maclellan by James III, in 1466, when his name was given to the lands after he had bestowed a site for a new church. John M'Lelane had a charter of lands of Balmaclelane from Vedastus Greresone, which received the Royal confirmation, in 1466. The earliest record of the name is in 1305, when Patrick, son of Gilbert M'Lolane, with several others, took the Castle of Dumfries from the followers of Bruce. Some McLellans in the Aberfeldy district of Perthshire are regarded as a branch of the Clan MacNab.
In Ireland this name and its variants were introduced into Ulster Province by settlers who arrived from England and Scotland, especially during the seventeenth century. During the 'Plantations of Ireland' in the sixteenth and seventeenth centuries Ireland was colonized by the English Crown with this period marking the end of Gaelic supremacy in Ireland. This period brought an influx of settlers into the country but, unlike the earlier Anglo-Norman invasion of the twelfth century that resulted in a full integration into Irish society of the new arrivals, the same never occurred with the Ulster Planters who maintained their own distinct identity.
The
McLellan
family crest (or coat of arms) came into existence many centuries ago. The process of creating these coats of arms began as early as the eleventh century although a form of Proto-Heraldry may have existed in some countries prior to this, including Ireland. The new more formalized art of Heraldry made it possible for families and even individual family members to have their very own family crest, coat of arms, including
McLellan
descendants.
Meaning of Symbols & Colors on the Mclellan / Coat of Arms
| | | |
| --- | --- | --- |
| Or/Yellow/Gold | Represents Generosity. | |
| Sable/Black | Denotes Constancy and sometimes Grief. | |
| The Chevron | Denotes Protection. Often granted as a reward to one who has achieved some Notable Enterprise | |