Callaghan Coat of Arms, Family Crest and Callaghan Family History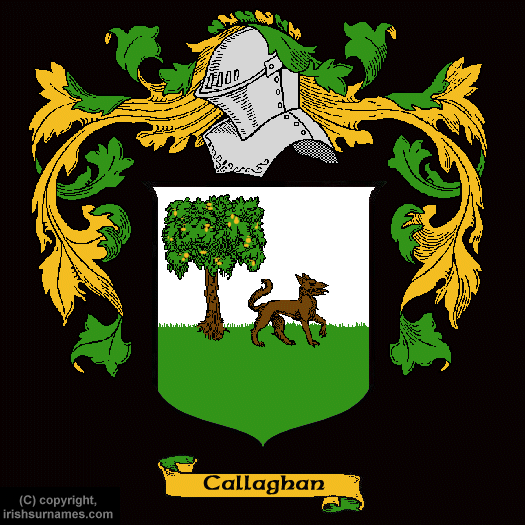 Callaghan Family History
The family history of the ancient name
Callaghan
was found in the irishsurnames.com archives. The names Callaghan, Callahan and O'Callaghan in Irish are derived from the Gaelic O'Ceallachain sept which in turn originated with Ceallachan, who was King of Munster in the year 952, and who was once head of the sept.
A sept or clan is a collective term describing a group of persons whose immediate ancestors bore a common surname and inhabited the same territory. It is also the case that many Irish septs or clans that are related often belong to a larger groups, sometimes called tribes. For example the 'Tribes of Galway' consisted of fourteen distinct families. The 'Tribes of Kilkenny' were ten families, etc.
They were dispossessed of their original territory in the Barony of Kinelea, County Cork, after the Anglo-Norman invasion of 1172, after which they acquired a large area of north Cork near Mallow and retained it until again dispossessed by the Cromwellian Regime. The leading family of the sept then migrated to County Clare, where the village of O'Callaghan's Mills bears their name. Other members of the sept were not transplanted and today the area in which the O'Callaghans are chiefly found is still County Cork and the surrounding Counties.The
Callaghan
family crest (or coat of arms) came into existence many centuries ago. The process of creating these coats of arms began as early as the eleventh century although a form of Proto-Heraldry may have existed in some countries prior to this, including Ireland. The new more formalized art of Heraldry made it possible for families and even individual family members to have their very own family crest, coat of arms, including
Callaghan
descendants.
Meaning of Symbols & Colors on the Callaghan Coat of Arms
| | | |
| --- | --- | --- |
| Argent/White or Silver | Denotes Peace and Sincerity. | |
| Vert/Green | Signifies Hope, Joy and sometimes, Loyalty in Love | |
| Oak Tree/Acorns/Oak Leaves | Symbol of Antiquity and Strength | |
| The Wolf | Symbolising the rewards of perseverance in long sieges or industry | |