Dundon Coat of Arms, Family Crest and Dundon Family History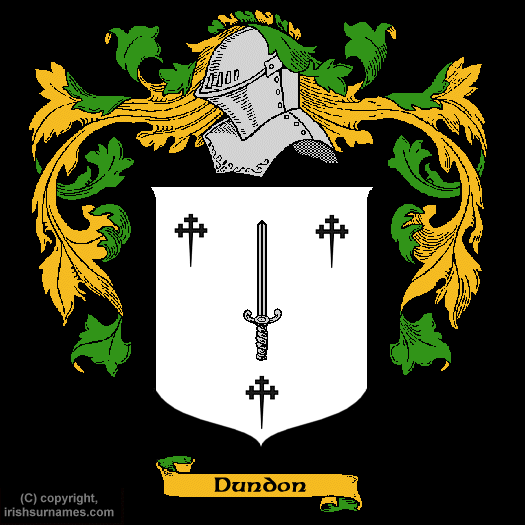 Dundon Family History
The
Dundon
ancient family history was found in the irishsurnames.com archives. The Irish names Dundon and Dondon are derived from the native Gaelic Dondun sept that was located in County Limerick. These names were originally of Anglo-Norman origin, being taken from the name 'de Auno', which is akin to the English name Dawnay. These Norman families arrived in Ireland in the thirteenth century and ultimately formed a sept along Gaelic lines.
A sept or clan is a collective term describing a group of persons whose immediate ancestors bore a common surname and inhabited the same territory. It is also the case that many Irish septs or clans that are related often belong to a larger groups, sometimes called tribes. For example the 'Tribes of Galway' consisted of fourteen distinct families. The 'Tribes of Kilkenny' were ten families, etc.
When Gaelic names were anglicized during the sixteenth and seventeenth centuries they were often changed to Anglo equivalents that sounded most like their original Gaelic name. Hence Dondun became Dundon and Dondon. In modern times this name and its variants are still mostly associated with the western part of Ireland and County Limerick in particular. The
Dundon
family crest (or coat of arms) came into existence many centuries ago. The process of creating these coats of arms began as early as the eleventh century although a form of Proto-Heraldry may have existed in some countries prior to this, including Ireland. The new more formalized art of Heraldry made it possible for families and even individual family members to have their very own family crest, coat of arms, including
Dundon
descendants.
Meaning of Symbols & Colors on the Dundon Coat of Arms
Argent/White or Silver
Denotes Peace and Sincerity.
Cross Patoncee/Cross Flory
One who had Conquered
Sword
Symbol of Government and Justice