Mccaffrey Coat of Arms, Family Crest and Mccaffrey Family History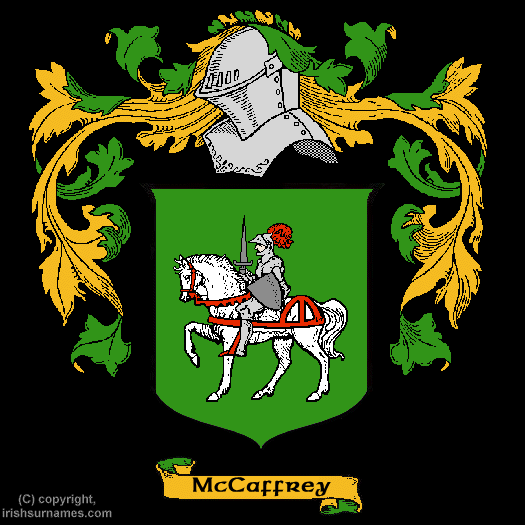 Mccaffrey Family History
The ancient origin of the name
McCaffrey
was found in the irishsurnames.com archives. The names McCaffrey, Caffrey, Cafferty and McCafrey are of Irish origin and are derived from the Gaelic MacEachmharcaigh and MacGafraidh septs. This later sept was a branch of the McGuires of Fermanagh.
A sept or clan is a collective term describing a group of persons whose immediate ancestors bore a common surname and inhabited the same territory. It is also the case that many Irish septs or clans that are related often belong to a larger groups, sometimes called tribes. For example the 'Tribes of Galway' consisted of fourteen distinct families. The 'Tribes of Kilkenny' were ten families, etc.
The townland of Ballymacaffrey near Fivemiletown on the Tyrone border marks their homeland. The great majority of the name today belong to the families located in Counties Fermanagh and Tyrone in Ulster Province. A well known person of the name was the Rev. James MacCaffrey, 1875, the ecclesiastical historian who was born in Tyrone. Cafferkey is the form most often used in County Mayo.The
McCaffrey
family crest (or coat of arms) came into existence many centuries ago. The process of creating these coats of arms began as early as the eleventh century although a form of Proto-Heraldry may have existed in some countries prior to this, including Ireland. The new more formalized art of Heraldry made it possible for families and even individual family members to have their very own family crest, coat of arms, including
McCaffrey
descendants.
Meaning of Symbols & Colors on the Mccaffrey Coat of Arms
Gules/Red
'The Martyr's colour', signifies Military Fortitude and Magnanimity.
Vert/Green
Signifies Hope, Joy and sometimes, Loyalty in Love
Horse
Signifies Willingness to Work for King and Country
Sword
Symbol of Government and Justice