Mcclinton Coat of Arms, Family Crest and Mcclinton Family History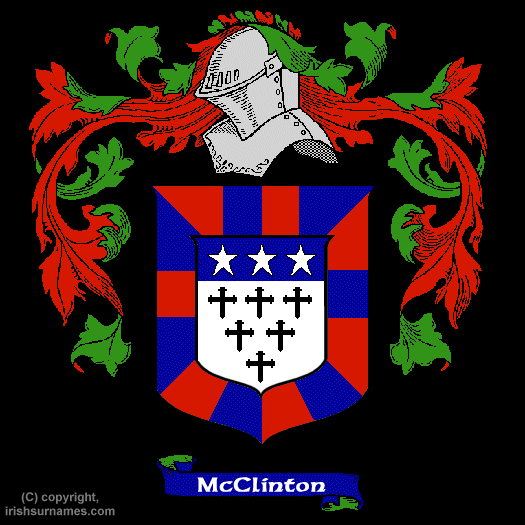 Mcclinton Family History

The name McClinton in Ireland is derived from the native Gaelic Mac Giolla Fhionntain Sept that was located in the West of Ulster. This name literally translates as 'devotee of Saint Fintan'. Some McClintons may also be derived from the de Cliontun Sept. Clintonstown is in County Louth.

A Sept or Clan is a collective term describing a group of persons whose immediate ancestors had a common surname and all inhabited the same lands.
Meaning of Symbols & Colors on the Mcclinton Coat of Arms
Argent/White or Silver
Denotes Peace and Sincerity.
Azure/Blue
Represents Loyalty and Truth.
Gules/Red
'The Martyr's colour', signifies Military Fortitude and Magnanimity.
Bordure/Border
Denotes a diference between relatives bearing the same Arms
Crosses
Often representing Faith or Christian beliefs, possibly relating to the Crusades
Mullet/Star of Five Points
Denotes Virtue, Learning, and Piety.