Mcdonnell Coat of Arms, Family Crest and Mcdonnell Family History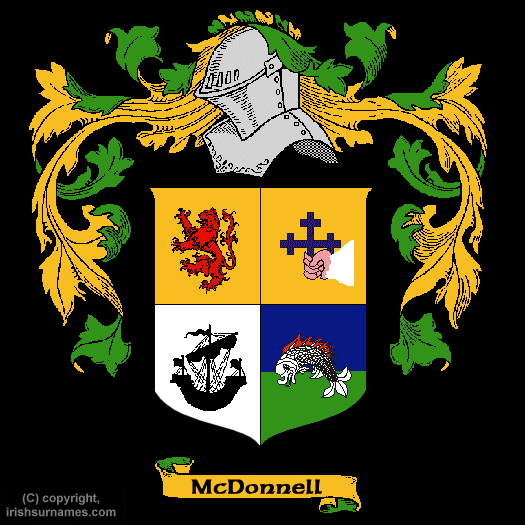 Mcdonnell Family History
The ancient origin of the name
McDonnell
was found in the irishsurnames.com archives. Families of the name McDonnell have a number of origins. Some are descendants of the Scottish Clan from Argyle whose Chief was Lord of the Isles. They arrived in Ireland in the thirteenth century and established themselves as Gallowglass warriors to the Chiefs in the North of the country. The family gradually acquired much territory and by the fifteenth century they were established in the Glens of Antrim. Randal MacSorley MacDonnell, the head of the family, was created Earl of Antrim in the year 1620. Other bearers of the name can be of Irish origin from the septs located in Thomond and the western part of Ulster.
A sept or clan is a collective term describing a group of persons whose immediate ancestors bore a common surname and inhabited the same territory. It is also the case that many Irish septs or clans that are related often belong to a larger groups, sometimes called tribes. For example the 'Tribes of Galway' consisted of fourteen distinct families. The 'Tribes of Kilkenny' were ten families, etc.
The Gaelic form of this name is MacDhomhnaill meaning 'son of Daniel' and is most often anglicized as McDonnell but also as McConnell.The
McDonnell
family crest (or coat of arms) came into existence many centuries ago. The process of creating these coats of arms began as early as the eleventh century although a form of Proto-Heraldry may have existed in some countries prior to this, including Ireland. The new more formalized art of Heraldry made it possible for families and even individual family members to have their very own family crest, coat of arms, including
McDonnell
descendants.
Meaning of Symbols & Colors on the Mcdonnell Coat of Arms
Gules/Red
'The Martyr's colour', signifies Military Fortitude and Magnanimity.
Or/Yellow/Gold
Represents Generosity.
Crosses
Often representing Faith or Christian beliefs, possibly relating to the Crusades
Fish
Symbol of Christ
The Lion
Emblem of Deathless Courage
Ship/Galley
Symbol of a notable Expedition by Sea