Salmon Coat of Arms, Family Crest and Salmon Family History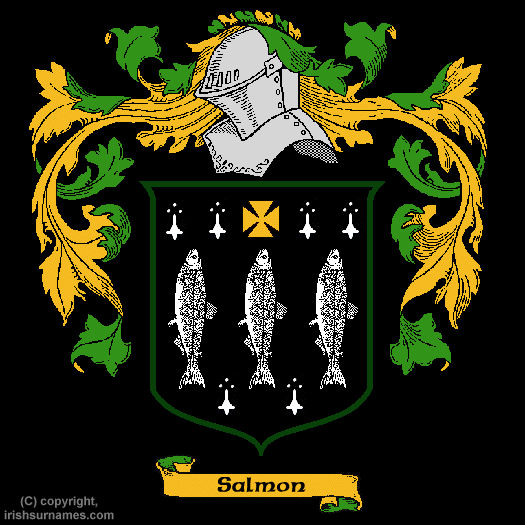 Salmon Family History
The ancient origin of the name
Salmon
was found in the irishsurnames.com archives. The name Salmon has a number of variants including Sammen, Samon, Sammon, Salmen, Bradden and Bradan. This name in Irish is O'Bradain, taken from the Irish word 'bradan' meaning 'salmon'. This sept came from Connaught Province and County Clare.
A sept or clan is a collective term describing a group of persons whose immediate ancestors bore a common surname and inhabited the same territory. It is also the case that many Irish septs or clans that are related often belong to a larger groups, sometimes called tribes. For example the 'Tribes of Galway' consisted of fourteen distinct families. The 'Tribes of Kilkenny' were ten families, etc.
The variants Bradden and Bradan are found in Donegal and Leitrim. The names Salmon and Sammon are found throughout the four Provinces and in Leinster are mainly centered around County Leix. These families settled in Kildare and Dublin before the Elizabethan influx and have been on record from the year 1529. By 1659 they were so well established in County Kildare that the Petty's enumerators ranked them as one of the most numerous Irish names. A well known member of the family was the Rev. George Salmon, 1819-1904, who was Provost of Dublin University and a distinguished mathematician. The
Salmon
family crest (or coat of arms) came into existence many centuries ago. The process of creating these coats of arms began as early as the eleventh century although a form of Proto-Heraldry may have existed in some countries prior to this, including Ireland. The new more formalized art of Heraldry made it possible for families and even individual family members to have their very own family crest, coat of arms, including
Salmon
descendants.
Meaning of Symbols & Colors on the Salmon Coat of Arms
| | | |
| --- | --- | --- |
| Ermine | Associated with the robes and crowns of Royal and Noble Personages | |
| Or/Yellow/Gold | Represents Generosity. | |
| Sable/Black | Denotes Constancy and sometimes Grief. | |
| Crosses | Often representing Faith or Christian beliefs, possibly relating to the Crusades | |
| Fish | Symbol of Christ | |