Coat of Arms, Family Crest - Free to view your Irish Surname family crest, coat of arms, shield, symbol, also called a design, pattern, tartan, picture, template, tattoo, heraldry, clipart, or heraldic! We show worldwide graphics of Irish, German, Scottish, Italian, Spanish, English, Welsh, UK, Canada, Australia and America origin. Free view of the picture with history, meaning, genealogy. Our medieval artist is an authority on national last names. Printable! Free search online to help your research!


&nbspCoat of Arms from Ireland & Worldwide Family Crests
Find the family crest
for your name of Irish
origin. Over 1000 listed!


&nbspIrish Surnames Origin
Irish names have a number
of derivations, including
those of native Gaelic,
Norman and Anglo origin.
Learn more right here.


&nbspWhat the Symbols Mean
The 'Martlett' can represent
a person who has been
dispossed from their lands.
Find out more about the
charges that appear on
family crests.


&nbspContact Us


&nbspCoat of Arms List

Coat of arms from Ireland and Worldwide

Click here to view your
Irish family crest

There are over 1000 free to view Irish family crests and brief history details in the Gallery.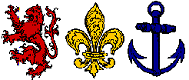 Click here to find out what the symbols or 'charges' on Irish family crests really mean

The gallery of heraldic charges is divided up into a number of sub-sections to make your investigations even easier:

colors &nbsp &nbsp
lines &nbsp &nbsp
shields
beasts &nbsp &nbsp
birds &nbsp &nbsp
plants
other heraldic symbols
New Articles: O'Connor family history &nbsp O'Neill family history &nbsp Murphy family history &nbsp Walsh family history &nbsp Kelly family history &nbsp

IrishSurnames.com is here to help you find your family crest. You should be aware that there may be more than one family crest for the same name. For example, the Irish name O'Connor has dozens. Many non-Gaelic names were brought into the country especially during the seventeenth century. At that time it was very much a disadvantage to have a Gaelic or Irish-sounding name so many of the native names were 'anglicized' into a similar sounding Anglo or Scottish name. For example, the O'Griobhtha Sept of County Clare adopted the Welsh name Griffin. The O'Murchadha sept adopted the name Murphy. Some septs adopted a number of different variants including the O' hAodha sept who changed their name to both Hughes as well as Hayes. So it is very easy to see how the origin of names could easily become confused, especially when you consider that further variants were added over the decades because of the corruption of the spelling of name. Kavanagh became Cavanagh and this became Cavanaugh, etc. Still other Irish names may be of Anglo-Norman origin.



(C) Copyright - IrishSurnames.com, 1998-2014
P.O. Box 9142, Blackrock, County Dublin, Ireland Tel: ++ 353 1 2893860
Tel: ++ 353 1 2893860
(Office hours: 9am to 6pm GMT = 4am to 1pm EST = 1am to 10am PST)


by Michael Green Google+